Not your typical small dog daycare
Daycare can be stressful for dogs, and no wonder. Too often daycare settings are crowded, lack outdoor space, force social interaction between dogs who wouldn't have chosen to be friends, and exhaust dogs with constant but unstructured activity.
That's where we're different.
Very different.
The Art of Dog: Small Dogs, Big Adventures provides your little companion with a specialized small dog daycare experience:
Small Dogs Only
Your little spends the day with similar-sized friends, matched by personality, energy level, and play style
Beautiful Setting
Our small dog-proofed, home-based center provides lots of safe, luxurious indoor and outdoor room to romp and relax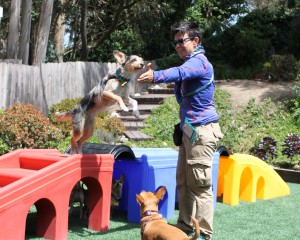 Structured Activities
Your dog will enjoy her own customized play plan, with activities chosen specifically to match her preferences
Small dog daycare is perfect for shy dogs who need a safe space to build confidence, young dogs with endless energy, seniors who could use supervision and cuddles while they snooze and relax, smalls with separation anxiety who need all-day company, and littles whose parents work long hours.
Our Small Dog Stay & Play Center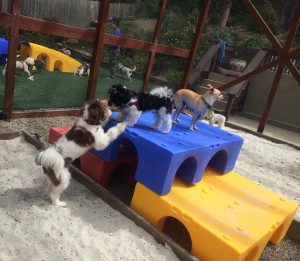 Set in beautiful Pacifica, our center is small dog heaven. Plush couches and dog beds indoors invite snuggling and cuddling, while our large, lush yard provides active littles plenty of room to run, play, wrestle, and then relax in the sunshine. Secure fencing, thorough dog-proofing, and constant, loving supervision keep your small dog safe while she enjoys her fun-packed day.
Your small dog's big itinerary
One size definitely does not fit all small dogs! At The Art of Dog, we get to know our daycare dogs' personalities and preferences, and build customized itineraries to make the perfect day for each.
Your dog's day might include an on or off-leash group romp at Fort Funston or another San Francisco open space; dog games; group play and wrestle time; non-competitive agility; all-positive basic obedience, manners, or tricks training; sunbathing; couch cuddle time; nap & quiet time with a healthy treat; all manner of other creative, fun pursuits.
Sample Stay & Play Daycare Schedule: Monday-Friday
Morning
Pick Up
Your pup is picked up from your home—Let the fun begin!
1- 1.5 hours
On or off leash group adventure hike
For those up to it, we visit an SF beach or park to spend some energy on our way to our Pacifica Stay & Play Center
2 hours
Enrichment & Activity Time
Games, agility, basic obedience or tricks training, group play, sunbathing, or cuddle time
1- 1.5 hours
Nap & Quiet Time
Soothing music and a frozen Kong or other healthy treats
1- 1.5 hours
Enrichment & Activity Time
Games, agility, basic obedience or tricks training, group play, sunbathing, or cuddle time
Evening
Drop Off
Your pup will be waiting at home for you, happy, tired, and ready to tell you all about the day's adventures
Small Dog Daycare Rates
$50 Per Stay & Play Session
Minimum Requirement 3 days per week
Pick up, drop off, snacks, and stuffed Kongs included. And of course all cuddles are free!
Note: The more your small dog plays, the better her days—and yours, too. Regular exercise is a key factor in enjoying a calm, well-behaved dog of any size.
Want to know more about us?
Read about our professionals qualifications and backgrounds and see our smiling mugs on our About page, and read client reviews on Yelp, Facebook, and our Testimonials page.
 Ready to get started?
Send us an email or give us a call at (415) 715-8573. We can't wait to hear all about your small dog!